Snapshot
Snapshot
Highlights
Overview
Exploration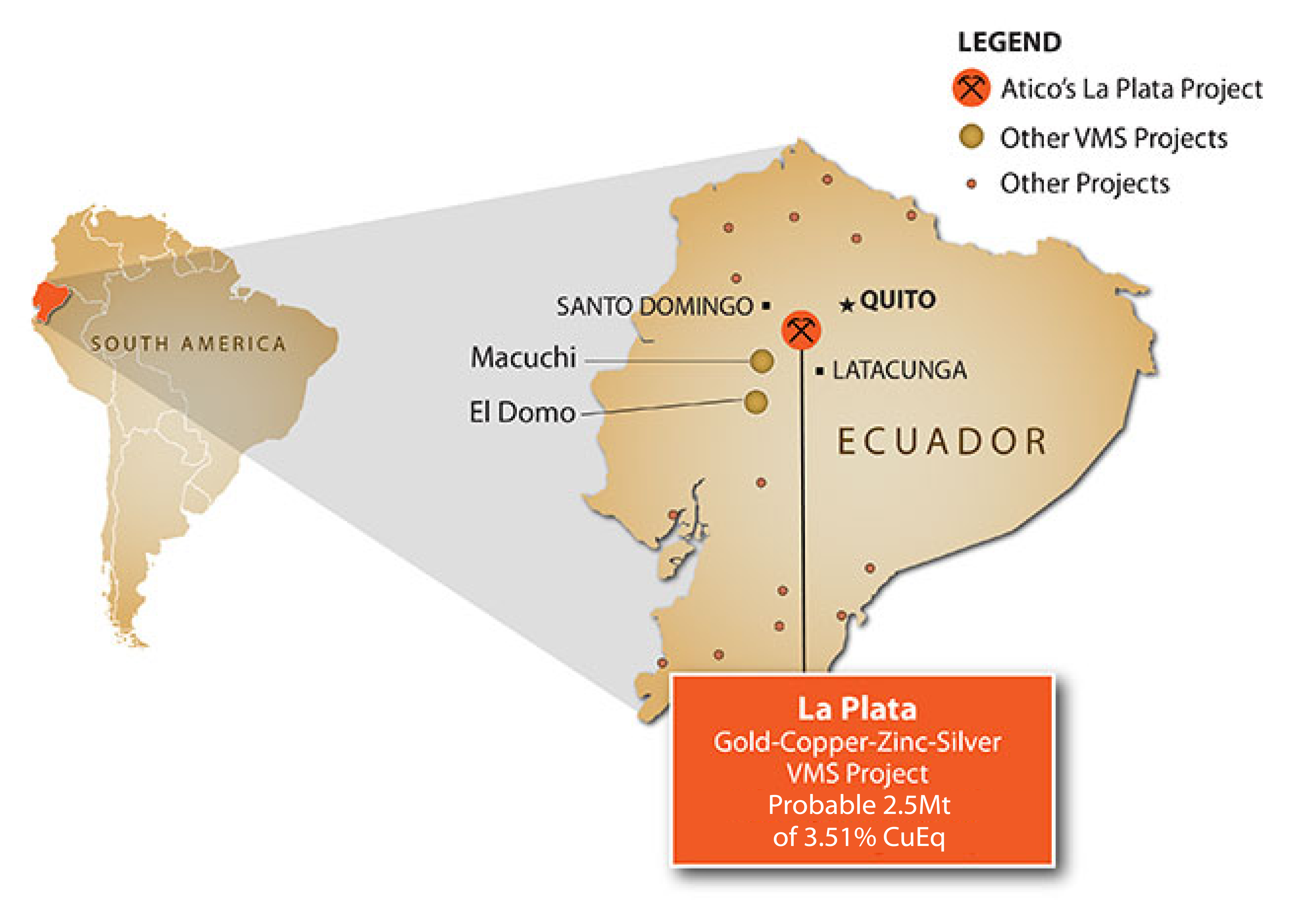 Location
District of Toachi, approximately 100km southwest of Quito
Infrastructure
Road accessible, power grid, abundant water
Deposit type
Noranda / Kuroko - Type VMS
Status
Pre-development stage
End Product
End Product (Au, Cu, Ag, Zn, Pb) Concentrate
Highlights
The Former Cambior Inc. project from 1996-1998 and Cornerstone Capital from 2006-2009, La Plata is a high-grade gold-rich VMS deposit which supported a small scale mine operation from 1975-1981
Historic resources based on drilling by Cambior and Cornerstone were estimated at 913,977 tonnes grading 8.01 grams gold per tonne, 88.3 grams silver per tonne, 5.01% copper, 6.71% zinc and 0.78% lead per tonne in the inferred category*
Mineralization is contained in two VMS lenses, and this 2,300-hectare project, contained in two concessions, strikes for almost 4 km and includes nine priority exploration targets.
* The resource estimates described above are historical estimates as defined by National Instrument 43-101 – Standards of Disclosure for Mineral Projects S.2.4 ("NI 43-101"). Toachi has not completed the work required to independently analyze and verify the results of the previous operators nor has a qualified person completed sufficient work to classify the estimates as current mineral resources or mineral reserves. With respect to the Cambior estimate, the Company is also not aware of what categories were used in the estimate. As a result, Toachi is not treating these estimates as current mineral resources or mineral reserves.
Overview
The La Plata project is a gold rich volcanogenic massive sulphide deposit that was the subject of small-scale mining from 1975-1981 by Outokumpu Finland. The project benefits from a modern drill and exploration database which was completed by Cambior Inc. from 1996-1999 and Cornerstone Capital from 2006-2009. In total, we have drill core and logs from more than 14,500 metres of drilling.
Combining very rich grades in gold, copper, zinc and silver, the La Plata project is also characterized by a significant exploration profile with multiple advanced targets defined by coincident geochemistry, geology and geophysics.